Archive folders are useful for storing data that you no longer want to see on a day-to-day basis without permanently deleting it. But you can still access data from an archived record in the Log Book to pull complete reports.
You can tell Archive folders by their grayed out appearance. You can make any folder an Archive folder and have more than one. If you don't see an Archive folder in your system see the article How to archive data.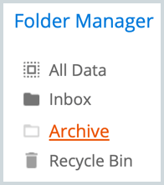 To pull a log book report that shows entries for all volunteers (including those in the archive folder) follow the steps below.
Note: Volunteer records in the Archive folder must have hours entered to appear in the report
Make sure you are in All Data view, click Log Book
Select All Volunteers in Account
Create a grid to reflect the report you want to run.
Click Reports



Select Log Book Data Grid Report



Check Include records in the Archive folder




Update any other parameters for your report and then click OK to run the report

Archived Opportunities and Organizations
You can also see data from Archived Opportunities or Organizations in your Log Book Reports. Follow the same steps as above but make sure you start from the Opportunities or Organizations tab.